Non-Emergency Medical Transportation Insurance in Los Angeles, CA
Protecting Non-Emergency Medical Transportation Professionals in Los Angeles and Throughout California
At LA General Insurance Marketing we have a complete non-emergency medical transportation insurance program, which is flexible and also which we customize for individual clients.
We're a full-service insurance brokerage for the non-emergency medical transportation (NEMT) industry in California. We provide targeted and reliable insurance products, which are comprehensive and affordable, and also exceed the expectations of every firm with which we do business. We are the only California-based insurance brokerage that is endorsed by the California Medical Transportation Association, and also we contract with the best possible insurance carriers. We'll help you navigate California's unique and rigid NEMT environment. We look forward to helping you.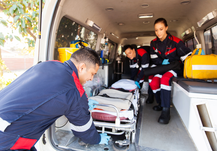 Non-Emergency Medical Transportation Insurance Coverage Details
Non-emergency medical transportation (NEMT) insurance coverages come in many varieties, and as a result, choosing the right coverages can be a challenge. We'll help you select the right coverages, and also we'll ensure that any policy or plan that you purchase is fitting.
The coverages from which you can choose include but are not limited to:
Comprehensive General Liability
Commercial Auto Liability
Commercial Auto Physical Damage
Professional Liability
Umbrella/Excess Liability
Workers Compensation
Property
Cyber/Data Breach
Employment Practices Liability (EPL)
Employee Medical/Dental/Vision Coverage
Other Specified Commercial Coverage Forms
Experienced, Client-Focused Agents Keeping You and Your Non-Emergency Medical Transportation Business Secure
We handle all of our NEMT clients' needs, including quoting, claims, billing, and renewals. We're our clients' exclusive broker-partners, and this is why we thoroughly assess clients' needs and also ensure that our clients' solutions are the best that they can be at all times.
We regularly and closely review policies and plans that we write, and this ensures that coverages are always current and also that clients' rates are always competitive.
At LA General Insurance Marketing we're proud to provide non-emergency medical transportation insurance in Los Angeles, CA. We also serve other areas in the state.
Our Locations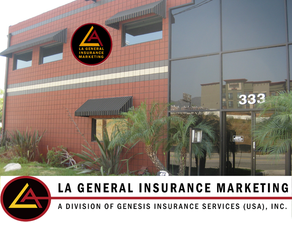 LA General Insurance Marketing
333 S. Front Street, Suite 200
Burbank, CA 91502
Main office:
818-243-0000
Fax:
818-243-0063
Business Owner's Insurance Agency
3914 Murphy Canyon Rd, Suite A239
San Diego, CA 92123
Main office:
858-874-0101
Fax:
858-874-3801
Testimonials
Accommodating, professional, helpful, and quick. Very comfortable experience and I was impressed by their capabilities. Highly recommended.
I feel lucky to have found an agent willing to provide this level of service. No need to look anywhere else!
Over the years we've never once had to worry about our coverage. My husband and I are long-time customers and proud to be.
Surprisingly flexible and in-touch with my needs as a small business owner. Can't ask for more.
They have strong ties with the community, and it shows. It's nice to do business with people that really show they care about you and your family.