Non-Emergency Medical Transportation and Business Insurance in Los Angeles and Riverside, CA
LA General Insurance Marketing
We're an independently owned and operated insurance brokerage which specializes in non-emergency medical transportation ( N.E.M.T.) insurance and other commercial risk insurance. We also offer a host of personal-line policies, making us a full service insurance brokerage. We serve clients located and operating throughout The Golden State and our professional staff have more than 100 years of collective commercial and personal insurance experience. No independent insurance agency in California has more expertise in N.E.M.T. insurance than we do.
Insurance That's Tailored to You
We can provide our customers with the most comprehensive N.E.M.T. insurance coverage available in California. We work with specialty, experienced, and top rated carriers in order to provide our customers with the coverages they need to operate successfully and confidently in today's competitive environment. We can provide coverage for emergency and non-emergency ambulances, medical transport vans, and any variety of commercial and livery transportation operations through our numerous specialty insurance markets.
We can also provide our customers with conventional commercial insurance programs which protect owners of restaurants, retail establishments, manufacturing facilities, and just about any other business exposure you may have. If you're looking for comprehensive, cost effective solutions to your insurance needs, look to LA General Insurance Marketing as your first choice provider.
Our personal insurance products are impressive, just like our commercial offerings. Homeowners, auto, life, and health insurance are just a few of the many products we provide for our customers. Our professional staff will design a broad and cost conscience personal insurance policy and/or plan that meets or exceeds your needs.
To learn more about any of our specialized or industry specific insurance offerings, contact an agent.
Passionate and Dedicated Agents Ready to Help You
The California Medical Transportation Association endorses us as their preferred source for Non Emergency Medical Transportation insurance coverages for the benefit of their members. We work with a state of the art agency management system and also with a proprietary renewal system. As a result, we have the resources and the products necessary to give our clients everything that they need, and we have the acumen and expertise to ensure that our customers are properly protected from the hazards and exposures that business owners are faced with on a daily basis. We look forward to proving to you that the insurance process can be a seamless and efficient process when dealing with our agency staff.
We're professional and experienced. Contact us or give us a call today. Request a quote in order to start on a policy.
Additional Insurance Information:
Our Locations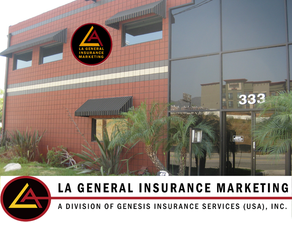 LA General Insurance Marketing
333 S. Front Street, Suite 200
Burbank, CA 91502
Phone Number:
Main office:
818-243-0000
Fax:
818-243-0063
Office Hours:
Mon:
8:00 AM - 5:00 PM
Tues:
8:00 AM - 5:00 PM
Wed:
8:00 AM - 5:00 PM
Thurs:
8:00 AM - 5:00 PM
Fri:
8:00 AM - 4:00 PM
Sat:
Closed
Sun:
Closed
Business Owner's Insurance Agency
3914 Murphy Canyon Rd, Suite A239
San Diego, CA 92123
Phone Number:
Main office:
858-874-0101
Fax:
858-874-3801
Office Hours:
Mon:
8:30 AM - 5:00 PM
Tues:
8:30 AM - 5:00 PM
Wed:
8:30 AM - 5:00 PM
Thurs:
8:30 AM - 5:00 PM
Fri:
8:30 AM - 4:00 PM
Sat:
Closed
Sun:
Closed